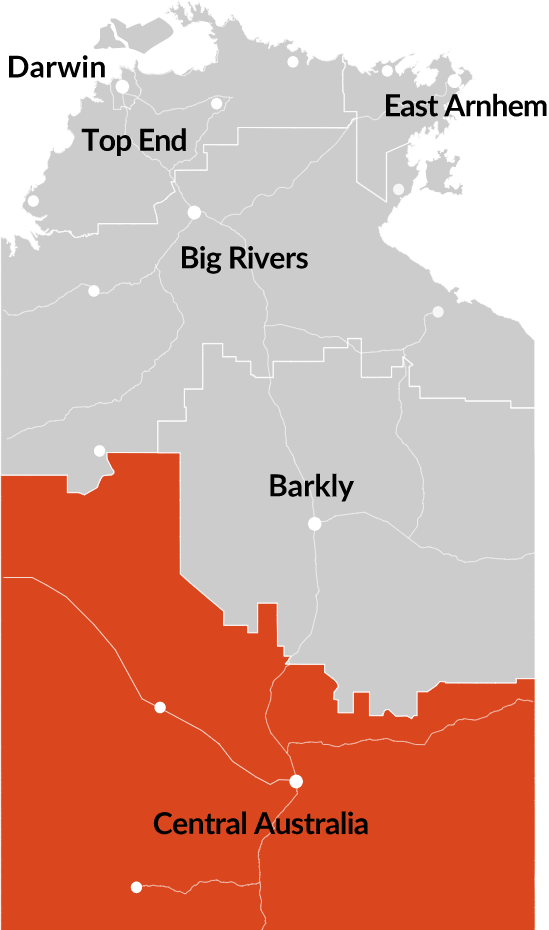 Central Australia
Download Northern Territory Government regions map with place names PDF (410.7 KB)
Alice Springs Town Camps
The Alice Springs Town Camps LDM Heads of Agreement was signed on 28 July 2020 by Tangentyere Council Aboriginal Corporation on behalf of the Town Campers, and the Chief Minister on behalf of the NT Government.
LDM Heads of Agreement documentation PDF (3.8 MB) includes

Schedule 1. Community information, key contacts, dates, and agreement processes PDF (385.6 KB);
Schedule 2. Agreed LDM Priorities PDF (103.3 KB); and
Schedule 3.1 Shelter and Housing PDF (241.1 KB).
The Agreement outlines the seven priority areas known as Wellness Domains identified by the Alice Springs Town Campers that will articulate the full scope of areas to be transitioned to community control.
The first of these, Shelter and Housing, forms Schedule 3.1 of the Agreement and includes a transition timeframe.
Tangentyere Council Aboriginal Corporation is undertaking extensive research with Town Campers to develop the detail for the remaining six Wellness Domains. As these are articulated the relevant NT Government agencies are engaging and forming strong partnerships with Tangentyere Council.
LDM Commitment Agreement signed on 4 July 2019.
The Agreement outlines how the parties will work towards a LDM Heads of Agreement.
Mutitjulu Community Aboriginal Corporation (MCAC)
Mutitjulu and Yulara Futures Planning is continuing to map out the long term vision and framework for the region and provide a guide to investment and development. This process will dovetail with the development of LDM in Mutitjulu.
Other LDM initiatives (across Central Australia region)
The Department of Health is in the process of transitioning the Yulara Health Clinic to community control.
The Department of the Chief Minister and Cabinet continues to meet with all 26 remote communities in the region to talk about LDM There is ongoing active engagement with Papunya, Santa Teresa, Hermannsburg and Yuendumu.
Yuelamu community members identified the need for a keeping place for men's business and repatriation of artefacts in community. The Department of Chief Minister and Cabinet have been working with the community members to enable to construction of the keeping place by the community, through the LDM principles.
Lhere Artepe Aboriginal Corporation (LAAC)
An LDM Agreement is in development between LAAC and the NT Government. The Agreement outlines a range of actions to progress social and economic development opportunities. Identified areas of priority include capacity building, education and training, employment and enterprise development, housing, and recognition of ties to traditional country.
Videos