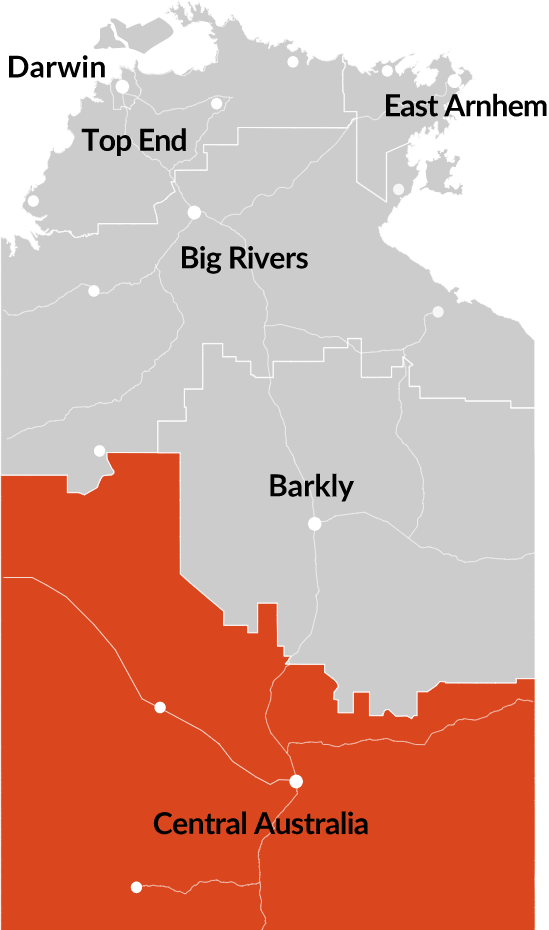 Central Australia
Tangentyere Council Aboriginal Corporation (TCAC)
LDM Commitment Agreement signed on 4 July 2019.
The Agreement outlines how the parties will work towards a LDM Heads of Agreement.
Parties are in discussion to identify the communities' priorities and grouping them into five priority areas.
TCAC have been provided a LDM Grant for two initiatives to advance LDM negotiations:

Progress dispute resolution and mediation between two town camps; and
Demolition of a derelict community centre building at Anthelk Ewlpaye (Charles Creek).
Mutitjulu Community Aboriginal Corporation (MCAC)
Futures planning in Mutitjulu and Yulara has commenced to map out the long term vision and framework for the region and provide a guide to investment and development. This process will dovetail with the development of LDM in Mutitjulu.
Western Desert Nganampa Walytja Palyantjaku Tjutaku Aboriginal Corporation (Purple House)
The NT Government is assisting Purple House explore options to transition the health clinics in Papunya, Haasts Bluff and Mt Liebig from the NT Government to community control.
A LDM Grant has been provided to Purple House to improve their operational structures and processes, and develop a business case to support the transition of the health clinics to community.
Purple House is now conducting extensive consultation with each community to see what the transition of the health clinics could look like.
Ngurratjuta/Pmara Ntjarra Aboriginal Corporation
Ngurratjuta/Pmara Ntjarra Aboriginal Corporation has identified housing as a service they would like more control over.
The Department of the Chief Minister and Department of Local Government, Housing and Community Development are working with Ngurratjuta to develop a plan around how to transition the Western Desert community housing from NT Government to community control.
Irrkerlantye (Whitegate)
A LDM Statement of Commitment and Heads of Agreement are in development.
The Agreement focuses on providing land tenure and essential services in Irrkerlantye.
A LDM Grant has been provided to Children's Ground to explore the feasibility and supply of essential services.
Other LDM initiatives (across Central Australia region)
The Department of Health is in the process of transitioning the Yulara Health Clinic to community control.
Wirliyajarrayi (Willowra) Community have developed a Community Action Plan, through the LDM policy and with assistance from the Department of the Chief Minister. The Plan has been developed to address issues affecting the community.
The Department of the Chief Minister has met with all 24 major remote communities in the region to talk about LDM.
NT Police continue to work collaboratively with communities to achieve better outcomes through a shared commitment and enhanced relationship. To achieve this NT Police has established Service Level Agreements (SLAs) with communities to ensure policing services are based on the specific needs of the community. SLAs currently operate in the Willowra and Imanpa communities.
The Department of Education will establish Local Engagement and Decision Making (LEaD) committees in remote community schools over the next three years. In 2019, 34 committees are expected to be set‑up and another 20 in 2020. A committee has been established in Ti Tree, while one is in the final stages of being established in Papunya.
Videos